Specialisms & expertise
Mergers and acquisitions
Share buy-backs, share-for-share exchanges and other corporate reorganisations
Joint ventures (with a particular interest in property development joint ventures)
Employee share incentive schemes
Corporate insolvency.
Client stories & examples of work
Nick recently acted for the shareholders of a leading software development company in the agricultural sector in relation to the sale of their company to Reed Business Information Limited for approximately £6 million
Nick has recently advised a few clients in relation to defective share buy-backs, tackling the void transactions by carrying out a share capital reduction (supported by a directors' solvency statement)
Nick advised Rosemary Shrager in relation to setting up the corporate structure of her cookery school in Tunbridge Wells
Nick advised on the incorporation of a landscape gardening company, an EMI share option scheme for its employees and a number of subsequent acquisitions so that it now has a nationwide presence
Nick was part of the team advising on a 25-year PFI project for the management of a city's highway network, then going on a part-time secondment at the client's premises to offer on-site advice and assistance with the implementation of the PFI project.
Types of client
Nick acts for a full range of corporate clients, from owner-managed businesses to quoted public companies.
He has developed a keen reputation acting for clients in the food, technology and publishing sectors, as well as for property developers and investors.
Achievements & other appointments
Nick has been ranked in his field in the independent guide to UK law firms, Chambers UK, as a leader in his field in Corporate/M&A since 2006. He is lauded as "excellent in speed of response and in explaining complex legal issues in layman's terms" (Chambers UK 2013). The 2009 edition praises Nick for providing "outstanding service with a calm, personable manner". The 2014 edition says he is "highly recommended by peers and clients for his commercial approach and extensive experience in the corporate space".
Profile
Nick was raised and schooled in Hong Kong. He returned to the UK to attend university and achieved both a BA (Law and Accounting) Joint Hons Degree and an LLM (International Business Law) Degree at Manchester University.
Nick joined Thomson Snell & Passmore in 1997. He was appointed as a partner in 2008.
Nick is married and lives in Tunbridge Wells. His interests include music, football, cricket and any other sport with balls.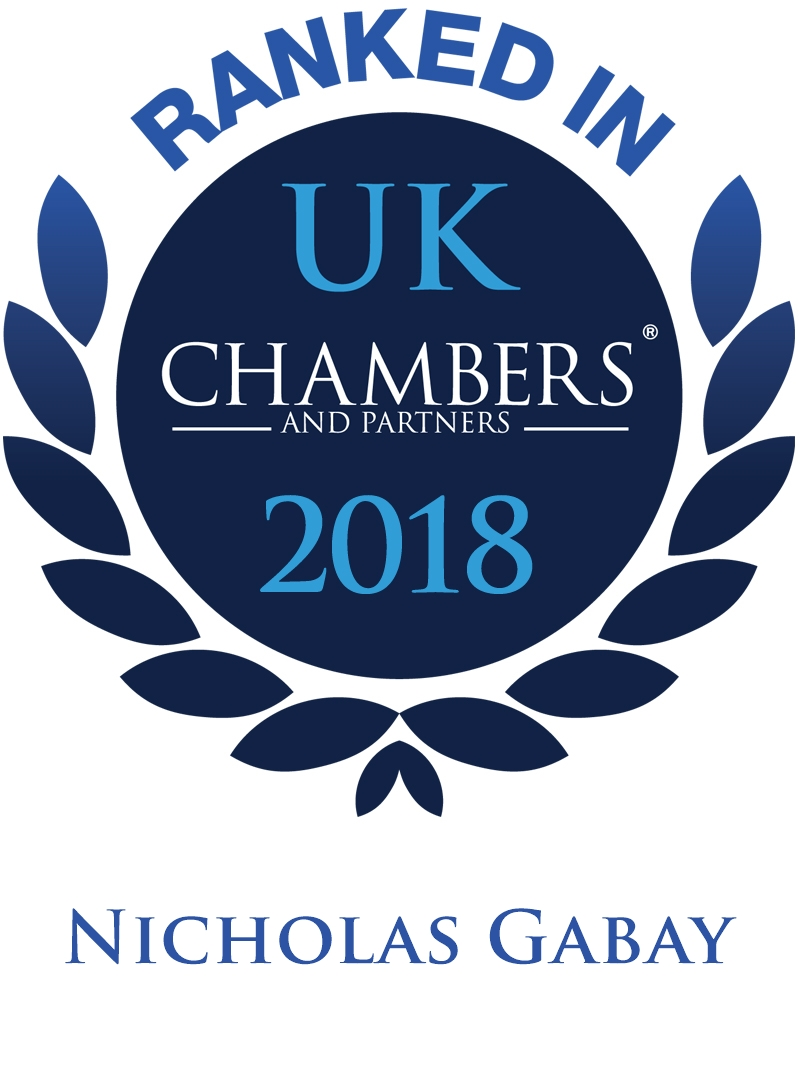 Nicholas Gabay is praised for his "very commercial outlook" and efficient turnaround on deals. He has expertise in M&A work, joint ventures and financing matters.
Chambers UK 2019
I have to say that we have been very impressed with your responsiveness, diligence, attention to detail and advice throughout this assignment. We will certainly look forward to working with you again.
Referrer
Nick Gabay delivered at the top level, throughout the acquisition.
Client
Nick was extremely impressive and diligent and certainly had a much better grasp of the intricacies of the deal than the lawyers on the other side. We are looking forward to being able to work with him again.
Client
The "very knowledgeable" Nicholas Gabay comes recommended for his experience in M&A, finance and joint venture work. He also advises on restructuring and insolvency matters.
Chambers UK 2018
Thank you both so much for your help today, I have the wisest guys on the planet getting me through this and I am extremely grateful!
Client
We were delighted by the professionalism of Nick and his team in leading us through what was a complicated and convoluted transaction – an absolute rock guiding and advising us through the process. I would highly recommend TS&P without any hesitation!
Tony Mycock, Henley Bridge Ingredients